Good Family Trips
The black smith shop is always a big hit in Nauvoo, also the original Browning Gun Shop is located there. There are two visitor centers the larger one run by the larger Salt Lake City based Church of Latter Day Saints, and another operated by the lesser know branch of Mormonism called the Community of Christ based in Independence Mo. Both centers have historical presentations. On April 1, 2004, the Illinois House of Representatives unanimously passed a resolution of regret for the forced expulsion of the Mormons from Nauvoo in 1846. A great town to mill around in modern times day dreaming about the past.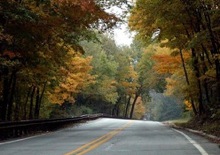 Il 96 even when not in view of the river it is a beautiful drive.
IL 96 from Nauvoo to Hamilton is truly the great river road. It allows many great views of the Mississippi with areas to pull off. You can cross over to Keokuk Iowa and travel back up to Fort Madison or Burlington. US 34 goes from Burlington to I 74 in Galesburg and back to Elmwood. The direct two lane route would be IL 116 to Stronghurst. IL 94 will join IL 96. You will notice as you drive through Lomax on IL 96 a large pink building. It is a restaurant and bar known as The Pink. If you like fried chicken, catfish, or scored carp it is the place to go. There is a State Park in Nauvoo and many other camp grounds, Bed and Breakfasts, and motels in the area. The Nauvoo Hotel is long known as an excellent restaurant that is much fancier and pricier than the Pink. Elmwood is roughly two hours from Nauvoo.

Click to Read Next Page