Monday, September 12, 2011 5:31 PM
This week end I am encouraging those in Elmwood to go to Knoxville, Illinois to join in their 180 years celebration. Gospel singing, pie baking, parades, all things friendly and celebrating.
As I was posting this on my web site it occurred to me next week at this time, I will be highlighting the Knoxville Blue Bullet football team coming to Elmwood to take on the Elmwood/Brimfield Trojans in what is shaping up to be the key game in the Prairieland Conference for the 2011 season.
Knoxville and the Knoxville Methodist Church also 180 years old are coordinating a celebration about frontier life, spirituality, faith, and love. The cheering in Elmwood on Friday night Sept 23 from the Knoxville fans will not include many "amen, brothers" in their volcabulary. It will undoubtedly exhort more violent behaviors than a quiet life of faith. Inevitably there will be a close call on a penalty allowing profane points of disagreement to be heard.
On this Saturday the 17th at 2:30 PM, Rev. Joel Catlin of O'Falln First UMC will recreate circuit riding preacher Peter Cartwright's ministry. His sermons will undoubtedly be heated, but unlikely include any appeal to kill the quarterback or the referees.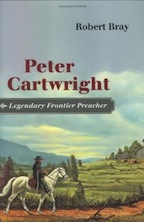 The Rev. Christopher Ritter of Geneseo will lead a community revival service with music from the Harvest Worship Band of Troy. Beginning at 7 p.m. Sept. 16 at the fairgrounds in Knoxville. Rev. Ritter will have to compete with the Blue Bullet game against Farmington at the high school field also starting at 7 PM. Many from around our area are going to be in Knoxville on Friday night. The Farmers are great rivals of the Blue Bullets, but are coming into the game as definite underdogs. Some in Knoxville think this team is headed to a long play-off run. I do hope some of the football fans will be able to hear the Harvest Worship Band. I have, and they are good.
Celebration 180 years as a church and a community
Description of Knoxville Week End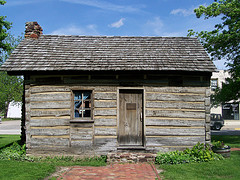 Sept. 16. Knoxville UMC 180th anniversary: Revival at Knox County Fairgrounds. Knoxville. Rev. Christopher Ritter and Harvest Worship Band.


Sept. 17. Knoxville UMC 180th anniversary

2:30pm Peter Cartwright circuit riding frontier minister. Recreated by Rev. Joel Catlin. Knoxville Town Square.


7pm Gospel Concert, Knox County Fairgrounds.


Sept. 18. Knoxville UMC 180th anniversary:


10 AM Anniversary worship service, Rev. Bill Werner. 303 S. Broad St.
This brings me to my point, some of the players on Friday night will be in the special church services on Sunday. They will look young probably a little shy if asked to read as a liturgist or lead a prayer.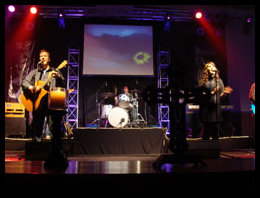 Harvest Worship Band My Space
Under the helmets they look like men, when they take them off they don't. Their young faces reveal what their big bodies disguise; they are still just kids. Our young people can act out sometimes, but most of them are good hard working kids. They earn respect by their actions and their play on the field. Respect the efforts all these students and coaches are putting into this sport. Sometimes those on the sidelines forget themselves, no one can watch every point on the field. You may have missed the part of the play that caused a penalty. It is a fast contact sport, fun to watch, but can be dangerous. Never cheer for another team's injury. Sack the quarterback is a far better chant, than kill the quarterback.
A fan, a fanatic loves the passion of the game, but the players are just students. The people from Knoxville are not some marauding horde, but our neighbors. So I hope you find time this week end to catch some of the events in Knoxville, participate in a great celebration this week end. Next week when in Elmwood and the Trojan fans are complaining those Knoxville people are acting like barbarians, remember it is the same community.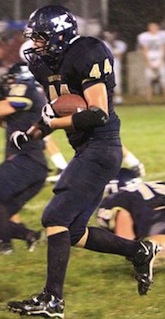 This is the second year of the reformed Prairieland Conference. Knoxville and Elmwod/Brimfield are both members of the Blue division of the Prairieland. The Knoxville Blue Bullets started the season with expectation and excitement following a good season last year. The Blue Bullets lost to Mercer County in last year's play-offs. They are currently 3 and 0 hosting the 2 and 1 Farmington Farmers. Elmwood/Brimfield 3 and 0 will play Rushville-Industry 1 and 2 at Rushville. The Trojans entered the season with less attention, but have played very well so far. Undoubtedly, the game in Elmwood will capture a lot of press attention and large crowds. E/B will not be favored against Knoxville, but will still be playing the underdog role. Last year E/B lost at Knoxville by a score of 34 to 6. Hopefully, the large crowd will add some numbers to Elmwood's many fine restaurants next Friday.
E/B's only other recent contest with Knoxville was in the 2005 play-offs. E/B playing in the old Prairieland conference meet Knoxville of the Olympic Conference. Knoxville came out on top, 31-14. Knoxville's quarterback in that game was Keegan Jones. Jones played football at Monmouth College. He is now on the coaching staff at the University of Buffalo. News Report A Galesburg radio station broadcast the game. Knoxville being their home team, they were familiar with the Knoxville players, but not the E/B players. My parents decided to stay home and listen that night, hoping to watch them again the next Saturday. They said the announcers kept referring to my son as that "Junior Linebacker." Alex was actually a defensive end, but played standing up.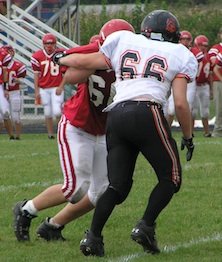 Alex's job was to contain. He was also assigned to tackle Keegan Jones everytime he rolled to his left and made two sacks. He kept tackling Jones on the fakes until Jones complained to the officials. Alex thought he was just being your typical QB, whining to the officials, but he did stop tackling him unless he had the ball. Alex is an asst. coach at West Central High School. When on the D side we all cheer for those QB sacks. All the glory and all the attention, sometimes unwanted, a QB's life.