Good Family Trips --- Gettysburg PA and Sharpsburg MD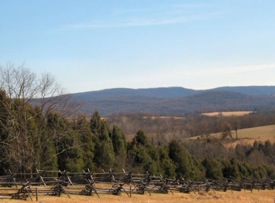 The Antietam National Battlefield Park is a great experience.
It is less visited and less changed from the 1860's than many other civil war sites. I know of no field where you can feel the moment more than by a visit to Sharpsburg.
Sixty miles and nine months separated these two battles that resulted in 75,000 casualties to the two armies. The aftermath of these battles was devastating to the towns where the war had erupted. Dead, dying, wounded, men and horses became an affliction to these communities.
McCellan would not pursue Lee's army and was relieved, he became Lincoln's opponent in the 1864 presidential election. After Union defeats at Fredericksburg (December 1862) and then Chancellorsville (May 1862). Lee decided to once again take his army into the North looking for a victory to change the course of the war. Vicksburg was under siege by Gen. U.S. Grant and the Confederacy was about to be torn asunder. Knowing that Vicksburg would likely fall General R.E. Lee ordered the Army of Northern Virginia to cross the Shenandoah River and enter Maryland farther to the west than in 1862. The Army of Northern Virginia forded the Potomac at Sharpsburg and Williamsport headed to Pennsylvania for many of the same reasons as in the 1862 campaign.
Gettysburg was a three day battle and was the battle with the highest number of casualties in all of the war. The Union was once again under command of a newly appointed general, this time George Gordon Meade. Meade assumed command with the Army of the Potomac already marching in pursuit of the Confederates.

Click to Read Next Page