Good Family Trips -- Vicksburg and Shiloh
In the 1860's soldiers from Illinois, Iowa, Wisconsin, etc. were known as Western men. Western soldiers were closer to pioneer lifestyles than some of their Eastern counterparts. They spoke with their own dialect. Illinois has 285,000 records in the civil war database a good many of the soldiers at Vicksburg and Shiloh were from Illinois. 258 records have a match when searching for Elmwood in Illinois Database. The Illinois 77th Regiment and the 47th Regiment contained many from Elmwood; these regiments were both apart of the Vicksburg campaign. If your family has been here a long time you may find a relative in the ranks of the Vicksburg campaign. Over 36,000 of the Union troops at Vicksburg were from Illinois more than any other state.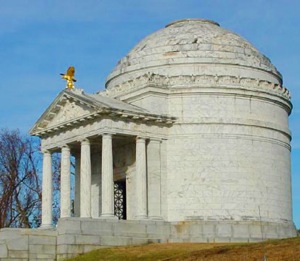 Illinois Monument at Vicksburg the largest memorial in the military park.
Alex and I took this trip just before he entered the sixth grade. Erik was on a trip of eighth grade graduates going to Washington D.C., so it was just a father and son. A father who like Jethro Bodine had graduated sixth grade. We had been able to spend a couple days at Gettysburg the year before. Erik and Alex had assualted Little Round Top, Erik being a little self conscious as he thought he was really to old to play soldier. Alex had used Little Round Top as the subject of a school project. As soon as that project was over he announced next year's project was Vicksburg. Alex knew Lincoln's famous quote "See what a lot of land these fellows hold, of which Vicksburg is the key! The war can never be brought to a close until that key is in our pocket ..." Off we went to Vicksburg, I wondering how we were going to build a model which had to accompany the written project that would represent the strategic position Vicksburg held.

Click to Read Next Page