Safe
Once when Erik was 4 and Alex 18 months we took a trip.  We drove back from Colorado, a long hot drive across Kansas.   We had stopped and let the boys play in parks and those McDonald's Play Areas, but it was still long hours in car seats for the boys.  The worse part of those elaborate play areas is when your kid gets stuck or loses his shoe. Then the parent must climb in, never a graceful sight, to retrieve the stuck child, shoe, or lost toy. We got home early in the afternoon to our small town, maybe too small to be a town, small town.  The house on the edge of town is my parent's so we pulled in to stop and say hello. As the car stopped Alex looked over and said one word "Safe."  Alex didn't say much at his age. His Grandfather had invested a lot of time to teach him to say brachiopod. But for the most part his words few.   When he saw we were home at his grandparents, he knew he was all right; he could return to normal, and he relaxed.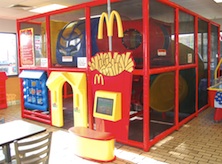 We are all in need of a safe place; home should be that place. Now most of us do not live in a home where we fear physical violence, but of course some people do.  In our typical relationships we are not in tense stressful life threatening situations, and I feel very sorry that some people find it normal.  Our relationships are usually good and we are looking to make them better.  We all need to be and feel safe, but safe in a good relationship is more than not living in fear of being hit.
Safe means a lot more and we all need to think about how safe we feel. Are we safe in the sense that we can be ourselves? ...

Click to Read Next Page