Fractious Nation
The two party approach had become as dead as a zombie, but like a zombie continued to walk around. The Bipartisan Zombie demanded to be treated as if it was still alive. Senator DeMint declared this would be Obama's Waterloo putting into words what had been the strategy all along.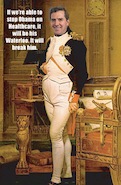 Facts became irrelevant. The fact that corporate interests funded Tea Party events, Fox News was caught using stagecraft at the rallies, and propagandizing the news. Fox still broadcasting Glenn Beck, even as he grew more irrational. None of this deterred the disaffected in our nation. The demons became stronger, the voices became louder, and a breach developed in the minds of the members of Tea Party movement no fact could mend. Congress members, who rarely act like leaders at anytime, made vitriolic attacks and created more falsehoods. Apocalyptic visions began to form in the minds of true believers. No, this would not be a rational debate this would be a cauldron of extremism.
So who are these Tea types?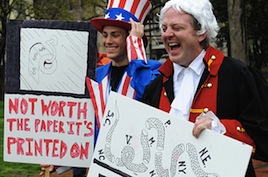 Click to Read Next Page