Once again on the road
Vision Quest or a trip to Mesa Verde?
September 25, 2017
I am fortunate to have gotten to the campground in time to catch camp host. Nice quiet spot, it is the last week of September, therefore no one is here. The weather feels like summer highs near 90 – lows in the sixties. I do not come for the camping. This place is near two Civil War battlefields. The lake is calm and quieting. Tree frogs are noisy little buggers. I heard a motor and thought someone was driving around, then quickly realized it was on the lake.  I am sitting in a short sleeve shirt watching the crescent moon move along and more stars appear. I like to drive especially in the Crossfire. Those Germans built a great America car.  Tip even when camping in a sports car bring a quality bag chair. Everyone needs a good sturdy seat to relax in.
My sons call this my vision quest, or an eccentric journey of an old man with esoteric interests. I do not find campgrounds getting back to nature. I am no more in a natural setting than if I drove down and pitched a tent in the pasture. Of course, the local Shire folk would know I was touched then. Unless, it was when my sons were small or I wait to do it with grandchildren.  Now, a few geese have honked up, do they not have the good sense to know it is dark?  I have set a goal of seeing each civil war battlefield preservation; I am going add a couple of notches to the virtual belt this trip. Pea Ridge tomorrow and Wilson's Creek would be possible. I would have to retrace my route. It is near Springfield MO and therefore Branson, a good place to avoid.  One thing I have decided upon I have very few firm commitments on this trip.  I am on the way to Mesa Verde to see the cliff dwellings, another place I have always wanted to go. I am on a continuation of reflection. I wrote in Walk in the Dark, Run in the Light of seeking personal unification. I am still on that journey.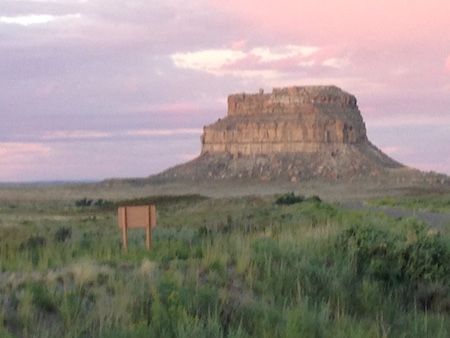 I did not find some great mysticism at Chaco Canyon and I do not expect to at Mesa Verde. I learn more, and I gain more perspective. The ancient cultures are not so unlike our own. We all adapt to the environment around us with the tools and knowledge we possess. The motivations and aspirations are much the same for humanity of any era. I will send updates, as reliable wifi and my corporealness intersect. 
 I really like people; I enjoy hearing their stories. I like to empathize with their struggles, assist them to complete a task. I am a sincere and serious person, but when I speak or write, especially write, I upset people. I am too good at twisting the rhetorical knife. If I am on this quest, as it was named, I do pray I unify my identities in a way that uplifts everyone. Unification of self would be my vision. (I guess) How can a serious spiritual seeker, sincere political and historical thinker, the average Joe (average Steve more common than Joe), and a lunk-brained body builder be one entity? Especially if that unified entity's existence is to be a positive force in the world. I am in the Ozarks now, and one thing these hillbillies know is how to make chicken-fried steak with the awesomenousest white gravy. Maybe, I should just give up on the unification of Spirit and body. I should just plop down, relax, and drown myself in fried everything with white gravy. If the ancient pueblo people had known how to make white gravy, they might still be living in those cliff hives.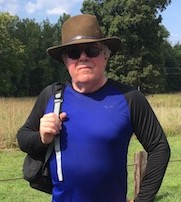 Grabbed the hat & pack plus a coat, it was going to be colder on this trip
9/26/17 8:47:55 AM
All showered, a good thing always, but especially this mornin., It was very hot in the tent when I crawled in. I woke up sweat soaked during the first couple of hours last night. Could have been in a haymow. It was beautiful this morning. I watched the rosy clouds of the dawn over the lake. Pleasantly perfect morning temps, no one here to bother me. I have power, so a charged computer, but no wifi. Some people are excited to go to Mars, do they know there is no wifi?  I think they are discounting the cold and no breathable atmosphere. I wouldn't. Yesterday was all about arrival and blowing into the campground with time to set up tent. Vague thoughts of did I bring everything. This morning it is where did I put everything?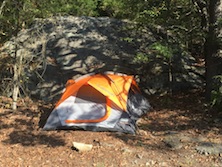 Click to Continue